INDIA
India (also known as Bharat or Hindustan) is a Land of Fascination and Prismatic beauty. A country as large as Europe, a home to one sixth of the human race, having the largest democracy in the world, speaking 850 different dialects and having a wealth of culture that spans the entire spectrum of civilization.

India has a strategic position in Asia. India lies to the north of the equator between 80 4' and 370 6' north latitude and 680 7' and 970 25' east longitude. It is bounded on the south west by the Arabian Sea and on the south east by the Bay of Bengal. On the north, north east and north west lie the Himalayan ranges. The southern tip, Kanyakumari is washed by the Indian Ocean.

India measures 3214 km (1972.43 miles) from north to south and 2933 km. (1799.98 miles) from east to west with a total land area of 3,287,263 sq. km. (1269146.5 sq. miles). It has a land frontier of 15,200 km. (9328.24 miles) and a coastline of 7516.5 km. (4612.88 miles). Andaman and Nicobar islands in the Bay of Bengal and Lakshadweep (island) in the Arabian Sea are parts of the territory of India. India shares its political borders with Pakistan on the west, and Bangladesh and Burma on the east. The northern boundary is made up of the Sinking province of China, Tibet, Nepal and Bhutan. India has 28 states and 7 union territories. The capital of India is New Delhi.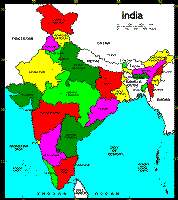 INDIA - THE LARGEST DEMOCRATIC COUNTRY
India was under the rule of British Government. On Feb. 20, 1947 when the British announced their intention to quit India, they asked Lord Mountbattern, then the Viceroy of (British) India, to arrange the transfer of power. On July 1, 1947, The British parliament passed, The Indian Independence Act, to divide India into two fully independent states - INDIA & Pakistan, and transfer their powers. On AUGUST 15, 1947, (INDEPENDANCE DAY OF INDIA ) the partition took place and the powers were transfered. Lord Mountbattern became the Governor General of India and Muhammed All Jinnah, the Governor General of Pakistan. On August 14, 1947, the Constitutent Assembly met as the Sovereign Constituent Assembly for the Dominion of India under the Presidentship of Sachidananda Sinha. On the demise of Sinha, Dr. Rajendra Prasad became the President of the Assembly. A draft of The Constitution of India was published in February 1948, and it was adopted on 16th of November. It came into effect on 26th January 1950 (REPUBLIC DAY OF INDIA ).