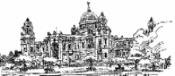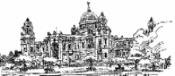 Interesting places of Calcutta
---
Academy of Fine Arts

Established in 1933, the Academy is a place where the city's culturally conscious intellectuals converge. It's art galleries feature exhibitions by contemporary artists throughout the year. The Rabindra gallery contains personal belongings, manuscripts and paintings by Tagore. Situated near Victoria Memorial, its galleries are open daily from 3 pm to 8 pm (except the Rabindra Gallery; 12.00 noon to 6 pm daily, closed on Mondays).

Academy of Indian coins & History

Located at 361/B Rabindra Sarani, the academy has a gallery of ancient Indian coins. Open every weekday from 11 am to 1 pm.

Ashutosh Museum of Indian Art

Established in 1937, it is located within the premises of Calcutta University and has interesting pieces of Bengal art. Open from 10.30 am to 5.30 pm on weekdays and upto 3.00 pm on Saturdays.

Asiatic Society

Located at 1 Park Street, Calcutta 700016, this institution is a famous centre of Indology, Literature and Scientific Research. It was founded by Sir William Jones in 1784 with Warren Hastings as its first patron. Its library contains about 20000 volumes including about 8000 rare Sanskrit, Arabic, Persian and Hindi manuscripts.
Named after three young freedom fighters-Benoy, Badal and Dinesh, is a square built around the old Lal Dighi tank, which still exits. It was later called the Tank Square and then the Dalhousie Square. It is still the 'heart' of Calcutta and many famous buildings housing important businesses and banks are located here.
Other interesting buildings in the B.B.D. Bagh (Dalhousie) area are the Royal Exchange (a one-time residence of Robert Clive and now the office of the Bengal Chamber of Commerce and Industry), St. John's Church. This church's yard has the Mausoleum of 'Calcutta's Founder', Job Charnock. The building is supposedly the oldest piece of masonry in Calcutta.

Belur Math

Founded by Swami Vivekananda, the world famous yogi and disciple of Sri Ramakrishna Paramhansa, it is the Headquarters of the Ramakrishna Math and Mission and is 6.4 kms from Howrah Station on the banks of the River Hooghly. This International tourist attraction is located near Belur in Howrah district. Its sprawling prayer hall with a statue of Ramakrishna is remarkable. Connected by train and bus.

Birla Industrial & Technological Museum

Established in 1966, it is located at 19A Gurusaday Road. A permanent exhibition of industrial and technological progress in India. A seat of learning of modern science and technology for students, research scholars etc. Has a workshop which designs and produces much of its exhibits. Closed on Mondays.

Birla Mandir

A new landmark in Calcutta is the Birla Temple on Syed Amir Ali Avenue. It attracts huge crowds and is splendid and imposing structure in white.

Birla Planetarium

One of the largest in Asia, it is located at 96 Jawaharlal Nehru Road. Daily programmes (except Monday) in English, Bengali and Hindi from 12 noon to 7 pm. Entry by ticket. It can accommodate 500 persons.

Botanical Gardens

The largest and oldest of its kind in India, it was laid out in 1787. It covers an area of 109.27 ha and is famous for the over 250-years-old Great Banyan tree which covers 382 m in its circumference, with over 600 aerial roots. There are more than 30,000 varieties of trees and plants. Situated about 9 km from Calcutta, across the Hooghly, it is a lovely picnic spot, best reached by a ferry across the Hooghly from Metiabruz. Open from 7.00 am to 5.00 pm.

Burrabazar

The most visible center of wholesale and retail trade in Calcutta, it is a bewildering medley of crowds and merchandise. The businessmen who operate here care nothing for appearances... money is the keyword. Situated to the north of B B D Bag, the place is accessible on foot from B B D Bag or by any bus going towards Howrah from B B D Bag.

Centre of International Modern Art (CIMA)

Centre of International Modern Art (CIMA). A new gallery featuring Indian contemporary art, for which it is renowned internationally. The gallery opens daily from 2 pm to 8 pm, except Mondays, Situated near the Birla Temple, close to Ballygunge Phari.

Calcutta High Court

The Highest seat of judiciary in West Bengal. One of the oldest in India (constructed in 1872), built in the Gothic style of architecture, it is a landmark in Calcutta. An extension was added later, which retains its architectural symmetry. Near Eden Gardens.

Dakshineswar Temple

Built by Rani Rasmoni of north Calcutta in the 19th century on the bank of Ganges, north east of Calcutta. It is here that Sri Ramakrishna Paramhansa, the renowned spiritual personality and the guru of Swami Vivekananda had worshipped the Goddess Kali, Bhaba Tarani, and did his sadhana at the Panchabati Garden adjacent to the temple. A world famous place of pilgrimage.

Dhakuria Lake

An artificial lake in Ballygunge, south Calcutta on Southern Avenue. Comprises a rowing club, safari garden children's park and play center (lily pool) an open air theatre Mukta Manch, swimming pool training centres, etc.

Eden Gardens

A sprawling garden set up by the British in the early 20 century with a band stand and a beautiful pagoda. An attractive picnic spot on Strand Road. A stadium has been built adjacent to it for cricket test matches which can accommodate about 85,000 people.

Fort William

The Military H.Q. of the Eastern Command. located on the Maidan, adjacent to Red Road. Named after Kind William III it can accommodate a garrison of 10,000 men.

General Post Office (GPO)

A piece of novel architecture located in the B B D Bag area. Controls the entire postal system of Calcutta.

Agri-Horticultural Gardens

Founded by William Carey in 1820. A significant collection of botanical varieties with facilities for gardeners and plant/flower lovers. No entry fee. situated in Alipur, adjacent to Calcutta Zoological Garden.

Howrah Bridge

This Engineering marvel has been the firmest symbol of Calcutta. The huge cantilever bridge, strung on two 270 feet high pillars connects Calcutta from Howrah. It four traffic lanes are daily used by over a lakh vehicles. It is the third largest bridge in the world, has around 2 million people crossing over it daily. Visible from many places in Calcutta, the bridge is called 'Rabindra Setu'. Quite near the Calcutta-end of the bridge is the spot where job Charmock landed over 300 years ago.

Indian Museum

A National Museum housing rare antiques, armaments, armour, fossils, stones, paintings of Mughal India, regal dresses/uniforms, rare animal skeletons, mummies, etc. Entry by ticket. Situated on J L Nehru Road.

Netaji Indoor Stadium

A fully air-conditioned stadium built in the seventies for indoor games and concerts. It has been the venue for the International Table-tennis Tournament in the seventies. Located in from the High Court building.

Kalighat Temple

Legend goes that the name of Calcutta, is derived from the famous Kali deity of this temple located at Kalighat in south Calcutta. A great attraction for Hindu pilgrimage.

Marble Palace

Located on C R Avenue in north Calcutta. Famous for its marble walls and floors, antique collections, rare birds, paintings, floor to ceiling mirrors, marble statues, etc. Closed on Mondays and Thursdays.

Metro

The underground railway is worth visiting, if only to see how clean and orderly Calcutta can be! As the gleaming trains whizz past clean platforms, one feels far removed from the chaos that reigns overhead. The terminal station at Dum-Dum, situated close to the Calcutta Airport connects commuters to Tollygunge (situated on the southern fringes of Calcutta) stopping at all major junction across the length of the city.

National Library

Previously Vice-Regal House, it is one of the largest libraries in Asia with a collection of rare books and manuscripts. Located opposite the Zoological Gardens, Alipore.

Nandan

A cultural centre for film enthusiasts and professionals, largely patronised by the late Satyajit Roy who inaugurated Nandan and designed its intriguing emblem. Its three motion picture theatres have the best screening facilities in Calcutta. One hall is used largely by film clubs to screen art movies for their members. Situated adjacent to the Academy of Fine Arts Complex.

Nehru Children's Centre

Built during the late sixties/early seventies. This Centre hums with children's activities. Has a huge library for children, besides adaptation of Indian classics in clay models. Located on J L Nehru Road.

Nicco Park

This amusement part is the Disneyland of West Bengal, with a variety of enjoyable games and rides. Located at Salt Lake.

Rabindrabharati Museum

The Museum concentrates on the Bengal renaissance of the nineteenth century. Situated near Girish Park on Chittaranjan Avenue. It is open from 10.00 am to 5.00 pm on weekdays (1.30 pm on Saturdays) and is accessible by any bus going northwards along Chittaranjan Avenue to the Girish Park Bus Stop.

Raj Bhawan

Now the residence of the Governor, was once the residence of the Governor-General of India. Based on an idea of the then Governor-General, Marquis of Wellesley, the building was modelled to resemble Lord Curzon's ancestral home - Kedleston Hall.

Rat Park

A grisly but fascinating sight--hundreds of rats scampering about within a wire enclosure. This unique set up is at Curzon Park, close to B B D Bag.

Royal Calcutta Turf Club

One of the oldest and largest turfs for horse racing in India. Holds a number of national events in horse racing.

Salt Lake Stadium (Yuba Bharati Krirangan)

A huge 3-tier stadium on the periphery of Calcutta's satellite Salt Lake City. The stadium can accommodate over one lakh spectators.

Saheed Minar

A monument similar to Qutab Minar of Delhi. This was known as Octerloney Monument. Located near Esplanade on the Maidan and seat of many memorable political meetings.

Science City

One of the few such facilities in the world, the Science City near the Eastern Metropolitan Bypass has a huge dome and bigge-than-life representations of dinosaurs and suchlike. Hi-tech combines with impressive visuals to bring science closer to people.

St John's Church

An old stone church dating back to 1784. The tombs of Job Charnock, founder of Calcutta, and his family, are located within its churchyard. Situated near the High Court it is accessible by any bus going to B B D Bag.

St Paul's Cathedral

The Anglican Cathedral of Calcutta built in 1847, adjacent to the Birla Planetarium. It towers 65 m high and is famous for the serene service conducted on Christmas Eve.

Victoria Memorial

Built between 1906 and 1921 on the lines of the Taj Mahal in memory of Queen Victoria. Topped with a moving angel this memorial faces the Calcutta Maidan. It houses paintings, manuscripts, and other objects of historic value in its Museum and Art Gallery. Two regular sound and light shows are held in the evening. Closed on Mondays.

Vidyasagar Setu

A beautiful bridge that spans the Hooghly, it has been built to ease the load off the existing Howrah bridge. Inaugurated in 1994, it affords a panoramic view of the Calcutta skyline.

Writer's Building

The seat of the West Bengal Government Secretariat, it is located in B B D Bag. Built during the days of the Raj, this building epitomises the political revolution of Bengal.

Zoological Garden

One of the biggest zoological gardens in India, it has a vast collection of animals, birds, snakes and reptiles. It also has a section for children. It remains a favourite picnic spot during winter and attracts a large number of emigrant birds. Entry by ticket. Directly across the main zoo is an aquarium, with a variety of aquatic life from around the world.
---
Back to the mainpage
I would be glad if send me some comments. My e-mail address is : Timir.Kanti.Ganguly@studserv.uni-stuttgart.de