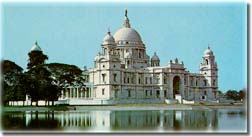 CALCUTTA - CITY OF JOY
In the fall of 1687, Job Charnock, an agent of the East India Company secured permission from the Mughals to found a base at Sutanati. In 1696, Old Fort William was established and this was the origin of the city of Calcutta. The name Calcutta is derived from Kalikata, one of the three villages whose lands became a part of the new settlement.
In the three centuries of its history, Calcutta has grown from a mere fishing village into the largest city in India with a population of 10.5 million, and indeed, one of the largest cities in the world. Calcutta served as the capital of British India until 1912 and it is not surprising that one sees predominantly Western architectural styles in its many buildings and monuments. Two of the finest examples are Writers Building and the Victoria Memorial, where the architecture is a medley of the best of Occidental and Oriental styles.
Nevertheless, Calcutta more than anything else, is a city with strong cultural, literary and religious flavours. This is reflected in the ever increasing flow of activity in such diverse fields as fine arts, writing, music, dance and theatre. Equally a part of modern Calcutta are its many clubs and sport centres. Calcuttans are avid fans of football and cricket.
The city today symbolises creativity and vibrance. All this at a stone's throw from some of the best choices in hotels, easy conveyance and good cuisine which go to make it an important gateway to the east and the exotic north-east.

THE FIRST CLICKABLE MAP OF CALCUTTA

INTERESTING PLACES OF CALCUTTA
Calcutta and Bengali Links:
Calcutta at night


I would be glad if send me some comments. My e-mail address is : Timir.Kanti.Ganguly@studserv.uni-stuttgart.de