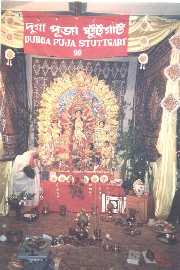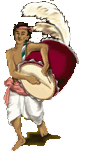 Since 1995 Durga Puja is being celebrated in Stuttgart which is the capital city of the state Baden-Württemberg in South Germany. This year in 2012 Durga Puja will be celebrated for 17 years now.
It will be a great occasion like every year. Bengalis from South Germany come to enjoy the Puja at Stuttgart. All new guests are welcome to take part in the devotion of Goddess Durga. Please help us to make this Puja a great success with your kind contributions. A contribution is required from all guests to finance the Puja.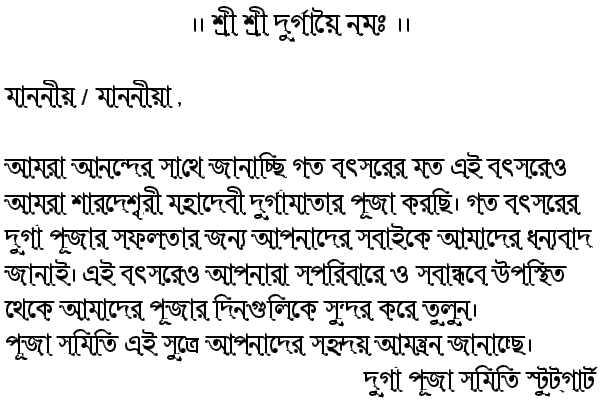 Listen to which is on the 15th October 2012 by Birendra Krishna Bhadra:

Mahalaya


(for modem users - low quality)
You need a real audio player which you can download free.

Mahalaya


(for broadband users - high quality)
Please send your feedback to durgapuja@ganguly.de and if you enjoyed this website then

to keep this website online.

FOR BENGALI FONTS


Listen to Bengali Songs of Hemanta Mukherjee


Listen to Bengali Songs of Manna Dey



Looking for an air ticket to Kolkata or any other place in India ?
Just send an e-mail to durgapuja@ganguly.de for further information.
You can buy air tickets from all major airlines including Air India.
The Durga Puja Ceremony 2012
SASHTI, 20th October , Saturday
19.30 Bodhan (inauguration)
SAPTAMI, 21st October, Sunday
11.00 Puja & Anjali (morning prayers & offering flowers)
19.00 Puja & Arati (evening prayers)
MAHASTAMI, 22nd October , Monday
11.00 Puja & Anjali
19.00 Puja & Arati
20.47 Sandhi Puja (Worship during transition) & Arati
MAHANABAMI, 23rd October, Tuesday
11.00 Puja & Anjali
19.00 Puja & Arati
BIJOYADASHAMI, 24th October, Wednesday
11.00 Bijoya (final prayers)
& Anjali (offering flowers)
14.00 Sindurkhela (women
give Sindur to each other)

Location of Puja Mandap:


Gemeindezentrum St. Rupert
Koblenzer Str. 13
70376 Stuttgart
Busstop Hallschlag; Busroutes 52,55,56
Description from Stuttgart Hauptbahnhof (Main station):
Take the S-Bahn S1, S2 or S3 upto Stuttgart Bad Cannstatt.
From there take the bus 52,55 or 56 upto Hallschlag.
Puja Mandap is just 5 minutes walking distance from the busstop Hallschlag.
And here is a map from the Busstop to the Puja Mandap.
Road descriptions can be found
in German or in English and a map is also available.
Click here for a city map of Stuttgart.
Information about accommodation in Stuttgart are available on the following websites: site1, site2 and site3.
Bus, U-Bahn and Metro (S-Bahn) timetables of Stuttgart

For further information and contributions please contact :


Mr. Tushar Kanti Ganguly, Tel: (0711) 825890, Stuttgart, Germany
Or you can also send an e-mail:


durgapuja@ganguly.de
I will reply as soon as possible.

Articles about Durga Puja Stuttgart:
Information about Durga Puja:





Click here for pictures of Durga Puja Stuttgart 1997 & 1998 & 1999
Timir Kanti Ganguly, Germany